Friday, January 27, 2017
During Fashion Week Adidas launched the new EQT! Read on to find out more..
Isabel Marant
Published by

Lois Opoku
at 12:07 pm
0 LOVELY THOUGHTS

Thursday, January 28, 2016
Fashion has come and gone in what seemed like a blur! I pretty much did all the shows with my partner in crime
Phillip
who helped me take all the pictures this season and I was part of the Blogger Apartment project (more on that later!).
Brace yourself for a few fun posts from Fashion Week. This time I hardly attended any events and I pretty much bailed on all parties. Shocker! I know right? But I had a lot of fun peeking behind the scenes and being able to get a lot of backstage access.
I was able to concentrate on the designers and their work rather than all the
tata tata
and
heckmeck
and fake
glitz and glam
around it. I selected a handful of designers I was really interested in seeing and a got a whole new perspective being able to watch from backstage as it all unfolded.
People still belittle Berlin Fashion Week. Yes, it's not Paris, nor London or anything close to New York.
But Berlin is Berlin and it has a few gems to offer.
Here is my first outfit. But brace yourself for more to come..
Published by

Lois Opoku
at 3:11 pm
1 LOVELY THOUGHTS

Labels: Adidas, Adidas Originals, Asos, Berlin Fashion Week, even and odd, Fashion Blogger, Fashion Week, foot locker, L is for Lois, Lois Opoku, Mango, Outfits
Sunday, November 30, 2014
This week was the
Week of Greatness at Foot Locker
, a very special week for all sneaker enthusiasts out there, because Foot Locker released 50 different style of pairs across the entire week with sneakers and classics from Nike to Adidas to Asics, Reebok and more. For me day 5 (26th November) had the most interesting release - the Nike Flystepper 2k3.
In celebration of the week, Foot Locker sent me a pair of Adidas Sneakers to style up. This is by far the
Published by

Lois Opoku
at 11:53 pm
5 LOVELY THOUGHTS

Monday, April 07, 2014
So my busy day ended with a party with my Adidas Family after the fitting at Levis and the Blogger Event with Pepe Jeans. Jacky and me drove in her Smart across town while playing a game of "How many girls can we fit in a smart without getting caught and stopped by the police?" In case you wondered, we made it safe to our destination without being cuffed. And the answer is 4.
Adidas Originals opened their first ever flagship store, one of more to follow that will open in major cities across the world and Big B aka crazy Berlin had the honours of premiering.
The new store holds treasures like Opening Ceremony x Adidas Originals, so many amazing pieces from the Jeremy Scott collection (I'm a huge fan of every single collection he has dropped for Adidas!) and many more selected items representing Adidas Originals best. Of course I had to check it out and say hi to all the familiar faces.
The store is filled with so many great pieces and I have to admit I'm growing fonder and fonder of their collaboration collections such as Adidas Originals x Farm (L.O.V.E!!!! I had my eyes on this collection ever since I spotted a few pieces in one of the lookbooks back in October at the
Adidas Style Room
and I've been waiting for news about this collection to hit my inbox. One word: amazeballs! And still on my wishlist). It was super packed and the music was at full blast, but I still had the chance to squeeze past the happy crowd and fall in love with the fashion in store.
My favs and major love for: Adidas Originals x Farm and Adidas Originals x Opening Ceremony. Jeremy Scott goes without saying ;)
Love Lois xxx
Published by

Lois Opoku
at 12:08 pm
4 LOVELY THOUGHTS

Wednesday, December 18, 2013
Last week I spent two wonderful days in Nürnberg for the Adidas NEO Best Friends Days which meant we all got to bring our best friend along. Unfortunately Louisa had to drop out very last minute, but Adidas was so kind to let me bring another really really great friend of mine, Ayse, along and we spent the two days with a lot of laughter, bonding, roomservice, one night at the Holiday Inn Nürnberg City, really really good dinner and breakfast, a cup of Glühwein at the Christlmarkt, late night sport session at the Hotel gym with Whoopie and my beloved
Serah
, a quick invasion of us girls of the Hotel Sauna, hours of girly talk and just way too much fun to fit into two days.
With my usual Adidas NEO companions in crime
Desi&Nisi
and their best friends we boarded the plane to Nürnberg, an hour later united with the other invited bloggers (It's no NEO trip without Desi, Nisi and
Annie
! Adidas NEO events are becoming something like our traditional quicky reunion spots :D ), two new faces and my much loved Adidas NEO Team.
Black J.LO
(yes that's me in my P.I.M.P coat and shades for no apparent reason - it certainly wasn't sunny outside!) and
WasLosAyseeee?!
 (Ayse) were ready to take over Nürnberg City.
Published by

Lois Opoku
at 10:38 pm
3 LOVELY THOUGHTS

Saturday, October 19, 2013
"Unite all originals"
 is next year's big over all theme at Adidas and therefore Adidas is reviving some of their old historic classics as for example the ZX850 sneaker.
As for Adidas Originals in particular - next season in honour of the World Cup to be held in Brasil, Brasil itself has become an inspiration which is visible in the Adidas Originals collection in form of footballs printed all over pullovers or simply the color green and jungle prints as a reoccurring theme.
And what's happening at Adidas NEO? Justin Bieber and Selena Gomez will be designing another collection for Adidas NEO next season. Already got my eyes set on Selena's bomber jacket with the sheer arms and floral details.
Published by

Lois Opoku
at 11:58 pm
0 LOVELY THOUGHTS

Labels: Adidas, Adidas Neo, Adidas Originals, Events, Fashion Blogger, Gina Tricot, HM, Jeremy Scott, Jeremy Scott for Adidas, Lois Opoku, Zara
Sunday, May 12, 2013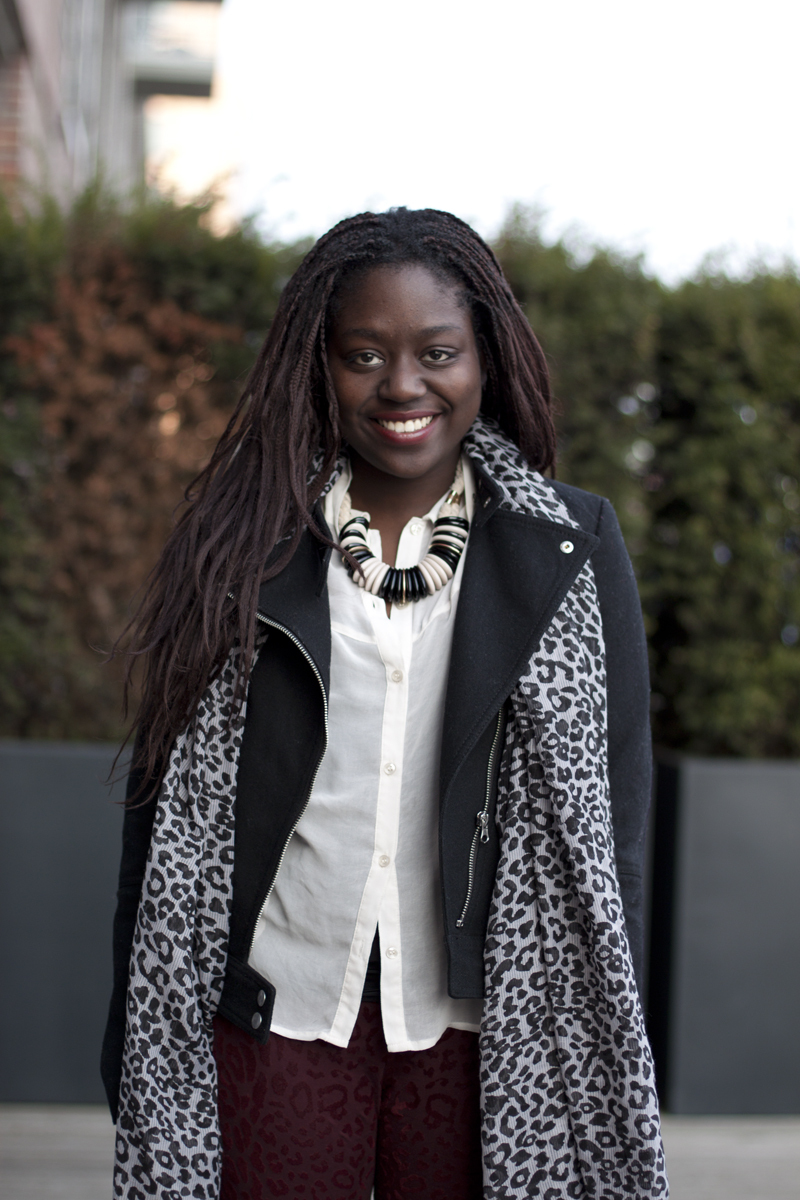 A few weeks ago I traveled to Hamburg for a day to visited the Adidas Style show room. I looked at the upcoming collections like Adidas Neo - this time designed by Selena Gomez, Adidas Originals and the Jeremy Scott x Adidas Collection that's totally crazy as usual. (Still in love with those Jeremy Scott x Adidas wings sneakers and the
leopard shoes
. Not kidding I'd totally wear them out.) I really liked what I got to see especially the Mc Nasty T-Shirt that's from the men's section I guess and the Adidas Neo sneakers with the removable bands adding little twist as detail. But there were many more pieces to look out for in autumn, when the collections hit the stores.
But other than looking and rating and discussing the new collection or eating as much mini burgers and dessert (they were so good!) as we want, we got to get a bit creative and pimp our very own T-shirts. I might show you mine in an outfit post.
A enjoyed a lovely day in Hamburg and the weather for once was at its best. The sun kissed my face as I sat next the harbour sipping Moscow Mules and Hugos while chatting to the other bloggers and the Adidas Team watching the ships passing by...
Published by

Lois Opoku
at 9:33 pm
5 LOVELY THOUGHTS

Labels: Adidas, Adidas Neo, Adidas Originals, Blink, Events, Fashion Blogger, Hamburg, HM, Jeremy Scott, Jeremy Scott for Adidas, Lois Opoku, Mirapodo, Pieces, Selena Gomez, Showroom, Zara
Thursday, March 29, 2012
Published by

Lois Opoku
at 7:11 pm
64 LOVELY THOUGHTS

Tuesday, March 27, 2012
Last Thursday I took my friend Louisa along to the Adidas Women Style Night event that took place at their Münzstraße Store. We were greeted with good drinks, finger food and good music and a crowd radiating good vibes. What more do you need for a good night?
•••
Letzten Donnerstag lud Adidas zur Adidas Women Style Night im Münzstraße Store ein und zusammen mit meiner Freundin Louisa ging ich dorthin. Zum Gruß gabs gute Drinks, Häppchen, Musik und eine gute Stimmung. Was braucht man mehr für eine guten Abend?
Published by

Lois Opoku
at 10:51 pm
37 LOVELY THOUGHTS